Awards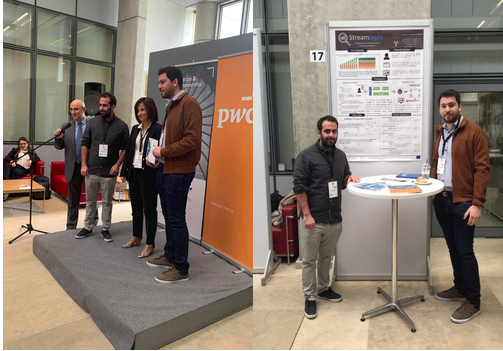 StreamSight: People's Award of the Innovation Track (IEEF2019)
StreamSight, a research project from the Laboratory of Internet Computing (LINC) has won the People's Award of the Innovation Track at the 4th Innovation and Entrepreneurship Forum (IEF2019). StreamSight is a practical framework for monitored IoT services aimed at simplifying the specification, compilation and execution of analytic queries on distributed processing engines deployed in edge computing environments.
The forum was held on 19 April 2019 at the University of Cyprus with the aim to showcast recent research results and ideas with a strong market or societal potential impact that can be materialised through novel products, processes or services delivered by new or existing ventures, private or public organisations, governmental institutions or non-governmental initiatives.
StreamSight was presented by Zacharias Georgiou and Moysis Symeonidis.