Sat Jan 28, 2023
Nephelae Cloud Infrastructure
General Information about Nephelae
Nephelae is a cloud computing cluster running Ubuntu Server 12.04 LTS and the latests stable release of the OpenStack (Icehouse).
Topology setup
Nephelae is currently consisted of six servers.
Currently configured topology puts users facing OpenStack Dashboard. Dashboard communicates with Nova Cloud Controller (on one server), while another back-end server is running Nova Network Controller for network control. The other servers are used for VM hosting (Nova Compute).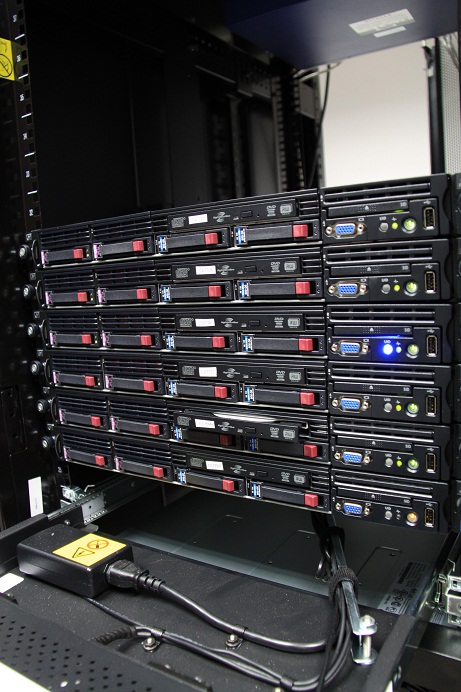 Nephelae's hardware
  Nephelae's Hardware Specifications 
 
CPU Model
  CPUs  
  Total Cores  
  Total RAM (GB)  
  Storage Capacity (TB)  
Nova Cloud Controller 
OpenStack Dashboard
E5620 @2.40Ghz
2
16
72
1.6
Nova Network Controller
E5620 @2.40Ghz
2
16
72
1.6
Nova Compute 1
E5620 @2.40Ghz
2
16
72
1.6
Nova Compute 2
X5650 @2.67Ghz
2
24
72
1.6
Nova Compute 3
X5650 @2.67Ghz
2
24
72
1.6
Nova Compute 4
X5650 @2.67Ghz
2
24
72
1.6
Nova Compute 5
X5690 @3.47GHz
2
24
80
0.4
Nova Compute 6
E52680v3 @2.5 GHz
2
48
173
6
Total
 
16
192
685 GB
16.0 TB
| Time Period   |   Instances   |   RAM MB - Hours   | CPU Hours   | Disk GB - Hours  |
| --- | --- | --- | --- | --- |
| 2013-01-01 - 2013-12-31 | 194 | 1262041775.22 | 514630.34 | 3652489.77 |
| 2014-01-01 - 2014-04-14 | 50 | 631989054.54 | 349108.80 | 3317401.71 |
Nephelae cloud infrastructure is funded by the  University of Cyprus