iSocial Video Challenge Submissions
1. "jobnet.com", 4th Secondary Junior School of Iraklion, Crete, Greece
Team Members: Orestis Tripidakis and Jim Papadakis
Coordinating Teacher: Georgia Prevelianaki
EMAIL: This email address is being protected from spambots. You need JavaScript enabled to view it.
2. "OSNs for Social Good", Acropolis Gymnasium, Nicosia, Cyprus
Team Members: Nataly Charalambous, Andreana Kyrillou and Diamanto Kkolou
Coordinating Teacher: Elena Efthymiadou
EMAIL: This email address is being protected from spambots. You need JavaScript enabled to view it.
3. "Customized News", Technion University, Israel
Team Member: Noa Yehezkel
EMAIL: This email address is being protected from spambots. You need JavaScript enabled to view it.
4. "e-brochures", Pilot Senior High School of Crete, Greece
Team Members: George Koukoutsakis, George Mitroglou and Dimitris Mpeleniotis
EMAIL: This email address is being protected from spambots. You need JavaScript enabled to view it.
5. "Doctor Everywhere", Acropolis Gymnaseum, Nicosia, Cyprus
Team Members: Andreas Gregoriou, Kypros Katsiamis and Markos Miltiadous
Coordinator Teacher: Irene Philipetti
EMAIL: This email address is being protected from spambots. You need JavaScript enabled to view it.
6."biSocial.com", Model Experimental School of the University of Macedonia Greece, Greece
Team Member: Nikiforos Fasfalis
EMAIL: This email address is being protected from spambots. You need JavaScript enabled to view it.
7. "Beige", Meleses High School, Crete, Greece
Team Members: Anastasia Kalohristianaki, Nikos Galanos and Vaggelis Stefanakis
Coordinating Teacher: Maria Varitaki
EMAIL: This email address is being protected from spambots. You need JavaScript enabled to view it.
8. "emaili", Meleses High School, Crete, Greece
Team Members: Menia Mperki, Alexandros Zidianakis and Konstantina Kostikou
Coordinating Teacher: Corina Vamboraki
EMAIL: This email address is being protected from spambots. You need JavaScript enabled to view it.
9. "Santa Claus Bag", Lyceum of Empa (Secondary School), Paphos, Cyprus
Team Members: Xenia Xenophontos, Andria Neophytou and Nicoletta Nicolaou
Coordinating Teacher: Fanny Charalambide
EMAIL: This email address is being protected from spambots. You need JavaScript enabled to view it.
10. "Ο Τοίχος των συναισθημάτων - Emotional Wall", Vocational School of Kassandra, Greece
Team Members: Arnis Konstantinos, Matami Panagiota, Florou Anna
Coordinating Teacher: Koutroumpi Pinelopi
EMAIL: This email address is being protected from spambots. You need JavaScript enabled to view it.
11. "Facebook Group Apps", Vocational School of Kassandra, Greece
Team Members: Kapetanou Stella, Karagkiozidis Sergios, Koutsi Manouel
Coordinating Teacher: Giamalis Aggelos
EMAIL: This email address is being protected from spambots. You need JavaScript enabled to view it.
iSocial Research Meeting, 27 - 28 January 2015, Crete, Greece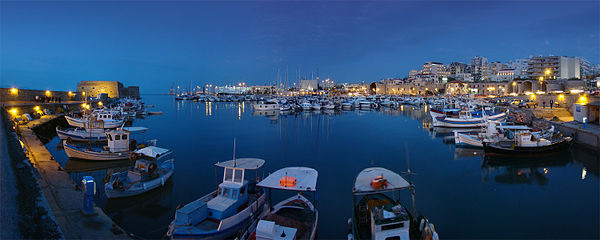 Date: 27-28 January 2015
Location: Heraklion, Crete, Greece
During this meeting, the progress of each fellow will be evaluated and a detailed feedback will be provided as well as the second round of secondments planned.
Agenda:
Tuesday, 27 January 2014

09:00-09:10

Welcome / Agenda




09:10-10:00

Despina Stasi

Random digraphs, hypergraphs, and directed hypergraphs: network modelling




UCY

10:00-10:50

Kolja Kleineberg

Evolution and ecology of online social networks




UB

10:50-11:20

Coffee Break

11:20-12:10

Anis Nasir

Navigable Overlays for Decentralized Online Social Networks




KTH

12:10-13:00

Hariton Efstathiades

Location-awareness in Online Social Networks




UCY

13:00-14:00

Lunch

14:00-14:50

Stefanos Antaris

Replication Strategies for DOSNs




UCY

14:50-15:40

Chen Chen

Weighted Overlay Design for Topic-based Publish/Subscribe on Geo-Distributed Data Centers




IBM

15:40-16:10

Coffee Break

16:10-17:00

Andrés García García

Decentralized App Store for a B2B Social Network




IBM

17:00-18:00

iSocial Matters: Video Challenge

Wednesday, 28 January 2014

09:00-09:50

Panagiotis Ilia

Security and Privacy Issues in Online Social Networks




FORTH

09:50-10:40

Leila Bahri

Privacy protection services for DOSNs




INSUB

10:40-11:10

Coffee Break

11:10-12:00

Amira Soliman

Distributed Machine Learning for DOSNs: giving power back to USERS




KTH

12:00-12:50

Naeimeh Laleh

Risk Assessment in OSN and DOSNs




INSUB

12:50-13:50

Lunch

13:50-14:40

Giovanni Simoni

Location-based access control for P2P video sharing




PEER

14:40-15:30

Kambiz Ghoorchian

Distributed Community Detection: from Entity Disambiguation to Sybil Identification




KTH

15:30-16:00

Coffee Break

16:00-17:00

Despoina Antonakaki

An experimental study on Twitter's social graph




FORTH

17:00-18:00

iSocial Matters: Next Events, Secondments
7-8 October 2014: "Online Social Networks: Emerging Trends " Workshop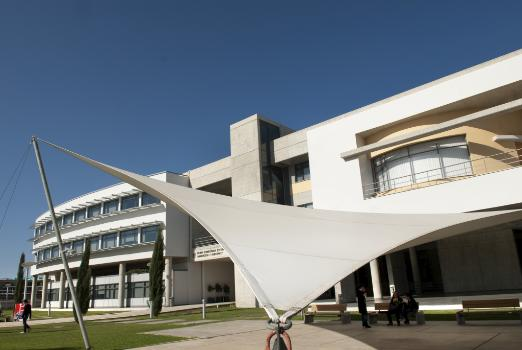 The iSocial workshop, "Online Social Networks: Emerging Trends" will take place on 07 - 08 October 2014 at the University of Cyprus New Campus. This workshop is organised by the Marie Curie Initial Training Network (ITN), iSocial. The workshop is dedicated to the current status of online social networks research and to practices of taking research into the market. The 2nd day of the workshop is dedicated to industry, featuring talks from Google, Yahoo!, Telefonica, and Useum; a poster session with iSocial research; and a presentation of the European Commission's initiative on Web entrepreneurship.
For more information visit the workshop webpage.
New Position: Marie Curie Felowship - Experienced Researcher (ER) - University of Barcelona

iSocial-UB-ER4
Universitat de Barcelona announces the availability of one Marie-Curie experienced researcher position in Online Social Networking technologies with a focus on structure and evolution of social networks and their navigability properties (code: iSocial-UB-ER4).
The position is for 18 months, starting in early 2015. The position is funded by the European Commission under the Marie Curie Initial Training Network (ITN) program iSocial, which focuses on the design of distributed and scalable overlay networking and distributed storage infrastructures for open online social networks and for innovative social network applications that preserve end-user privacy and information ownership. The main objective of the iSocial Initial Training Network is to provide world class training for a next generation of researchers, computer scientists, and Web engineers, emphasizing on a strong combination of advanced understanding in both theoretical and experimental approaches, methodologies and tools that are required to develop Decentralized Online Social Networking platforms.
For more information please contact Prof. Marián Boguñá (This email address is being protected from spambots. You need JavaScript enabled to view it.) and Dr. M. Ángeles Serrano (This email address is being protected from spambots. You need JavaScript enabled to view it.).
Requirements, Eligibility Criteria and Funding
Successful candidates are expected to conduct original research in collaboration with the principal investigators of iSocial at UB, Marián Boguñá and M. Ángeles Serrano, and to contribute actively to the activities planned of the project (scientific publications, participation to meetings and events, secondments, preparation of educational material, and online courses, student advising, project management and coordination, etc.).
We seek candidates with experience and research interests in one or more of the following topics: complex networks, complex systems, computational physics, or related areas. Preference will be given to highly motivated candidates with strong programming and analytical skills, excellent knowledge of English, and a proven commitment to their research career.
Eligible applicants are researchers who, at the time of recruitment are:
1) in possession of a doctoral degree and
 2) have less than five (5) years of full-time research experience, counted from the diploma that gives the rights to embark in a doctoral degree.
3) At the time of recruitment by the Universitat de Barcelona, experienced researchers must not have resided or carried out their main activity (work, studies, etc.) in Spain for more than 12 months in the 3 years immediately prior to the date of recruitment.
Marie Curie fellows enjoy good salaries and working conditions, career development opportunities and work-life balance. The yearly salary of a PostDoc researcher under Marie Curie iSocial ITN scheme at UB is expected to be approximately 38,000 Euros before taxes plus mobility allowance. Marie Curie fellows will also get coverage for expenses related to the participation in research and training activities (contribution to research-related costs, meetings, conference attendance, training actions, etc). We especially encourage women researchers to apply for the aforementioned position.
Applications
To communicate your expression of interest, please fill in the application form (doc, pdf) and send it together with your curriculum vitae and two recommendation letters by email to Marián Boguñá (This email address is being protected from spambots. You need JavaScript enabled to view it.). While expressions of interest are accepted on a continuous basis, applications received by Dec 24, 2014 will be considered in the first evaluation cycle. The decisions are expected to be reached by the end of Jan 2015.

----
The iSocial ITN has started in October 2012 and will finish in September 2016. The following institutions participate in the iSocial ITN: Royal Institute of Technology, Sweden (asst. prof. S. Girdzijauskas, prof. S. Haridi); Univ. of Cyprus (prof. M. Dikaiakos); Univ. of Insubria, Italy (prof. E. Ferrari); ICS/FORTH, Greece (prof. E. Markatos); Univ. of Barcelona (prof. M. Boguñá); IBM Israel (Dr. E. Dekel); Peerialism, Sweden (Dr. S. El-Ansary), and a number of associated research and industrial partners (IMIS/ATHENA, Greece; Nanyang Technological University, Singapore; TELEFONICA TID, Spain; FORTHNET, Greece; FMT Worldwide, Cyprus/Australia; Wadja.com, Cyprus/USA).
iSocial Video Challenge, 29 September - 17 October 2014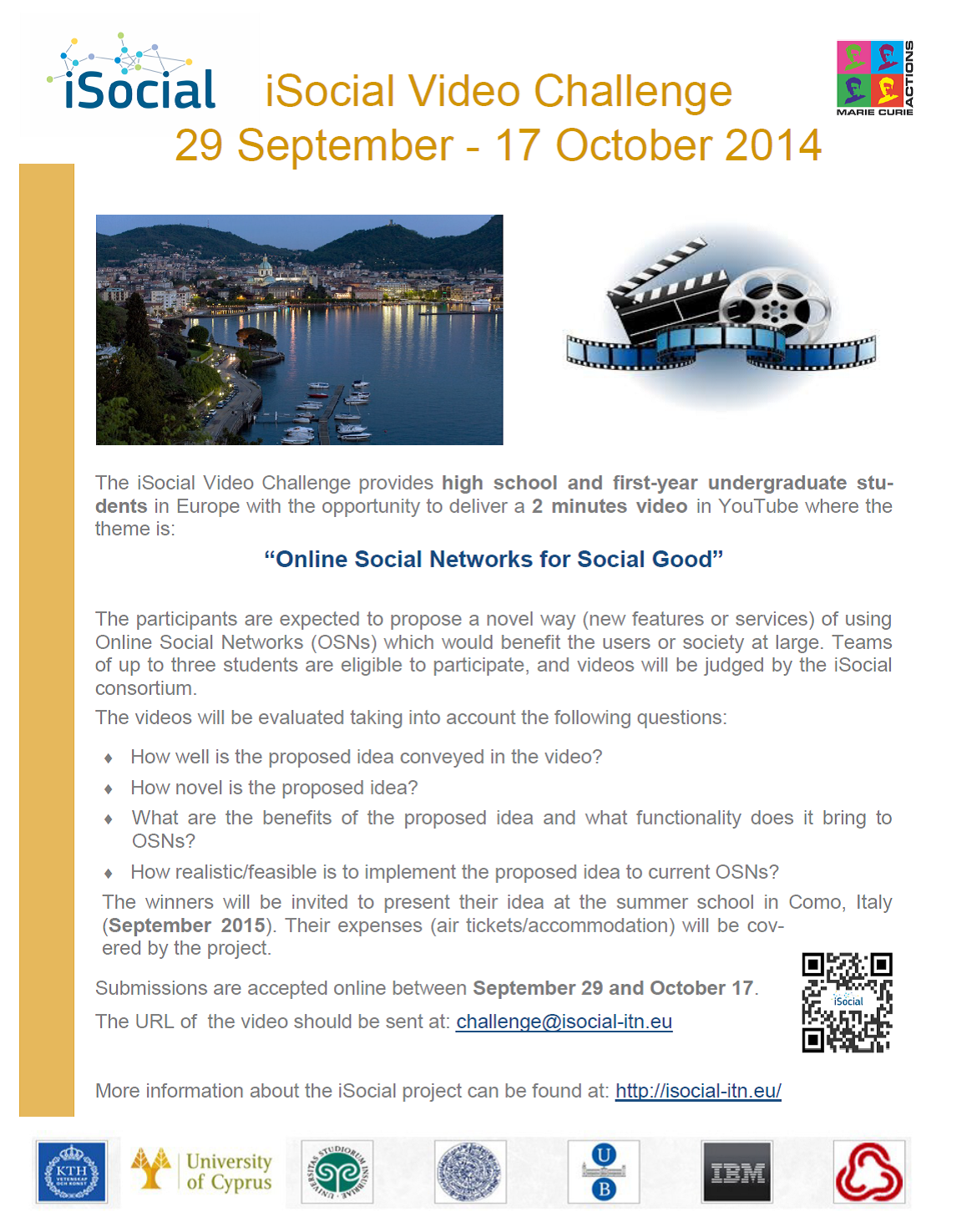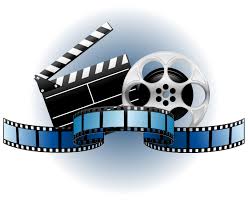 Social Networking has become a major factor in our everyday lives influencing the way we communicate, collaborate, learn, do business, build relationships and understand society. Many people have used Online Social Networks (Facebook, Twitter, LinkedIn, Google+, Flickr etc) to connect with friends and family in distant parts of the world, to make connections that have advanced their careers in leaps and bounds and to explore and visualize not only their own network of friends but the networks of their friends, family, and colleagues.
The main objective of iSocial is to provide world class training for a next generation of researchers, computer scientists, and Web engineers, emphasizing on a strong combination of advanced understanding in both theoretical and experimental approaches, methodologies and tools that are required to develop novel Online Social Networking (OSN) platforms. To foster publicity of the iSocial research activities, we announce a video challenge that will be opened to students of secondary schools and Universities.
Description of the Challenge:
The iSocial Video Challenge provides high school and first-year undergraduate students in Europe with the opportunity to deliver a 2 minutes video in YouTube where the theme is:
"Online Social Networks for Social Good"
The participants are expected to propose a novel way (new features or services) of using OSNs which would benefit the users or society at large. Teams of up to three students are eligible to participate, and videos will be judged by the iSocial consortium.
The videos will be evaluated taking into account the following questions:
How well is the proposed idea conveyed in the video?
How novel is the proposed idea?
What are the benefits of the proposed idea and what functionality does it bring to OSNs?
How realistic/feasible is to implement the proposed idea to current OSNs?
The winners will be invited to present their idea at the summer school in Como, Italy (September 2015). Their expenses (air tickets/accommodation) will be covered by the project.
Submissions are accepted online between September 29 and October 17. The URL of the video should be sent at: This email address is being protected from spambots. You need JavaScript enabled to view it..